Signs of Roof Damage in Kennesaw and Smyrna
Spot problems quickly before more damage is done
Do you have a roofing problem? Sometimes roofing problems are obvious, but other times a closer look is required to identify an issue that deserves attention. Some problems are easy to detect, while others require an expert eye. The good news is that all the problems explained below can be detected and corrected when you work with an experienced, full-service roofing contractor like Bonner Built.
No matter how big or small your roofing damage, we have the solutions and expertise to be able to fix the issue quickly and effectively. We provide reliable roofing repair services for any of the common roofing problems that might be affecting the integrity of your roof.
Whether you have a leaky roof, damaged shingles, or major structural damage, contact the experts at Bonner Built to schedule a free roof inspection and estimate in Marietta, Kennesaw, Smyrna or nearby.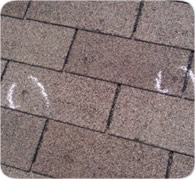 Hail Damage to Shingles
Wind Damage to Shingles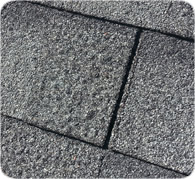 Blistering Shingles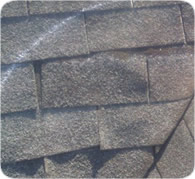 Brittle Shingles
Interior Ceiling Spots
Caused by leaks in the roof
Check attic for leaks in decking
Check rafters for water spots or leaks
Damaged Chimney Flashing
Improper installation
Drying and cracking
Settling of the structure
Missing Shingles
Improper fastening
Exposure to high winds
Buckling of Shingles
Wrinkled underlayment
Roof deck movement
Poor roof ventilation
New shingles installed over old shingles
Curling of Shingles
High nails or lack of back coating
Under-saturation of asphalt felt in organic shingles
Lack of ventilation or improper number of fasteners
Hail Damage
An impacted area that loses granules
Soft like a bruise on an apple
Causes leaks after a year or more
Shortens the life of a shingle
Algae
Caused by the growth of the airborne algae which deposits on your roof
Algae-resistant shingles are available
Missing Granules or Rotting
Moisture absorbed by the core of the shingle
Common in organic shingles
Small amounts of loose granules on a new roof is normal
---
We are Greater Marietta's experts for quality roof services
After inspecting your roof, our certified professionals will know exactly what needs to be done to repair your roof. Some damage will only need minor repairs, while other roofing damage will require a complete roof replacement. We will help you choose the right solution to ensure the you get the most out of your investment.
We are dedicated to providing quality services and products at affordable prices. We also provide emergency services when you need them. For a free estimate for roof repair, replacement, or any of our other roofing services, available in Lawrenceville, Alpharetta, Cumming, Roswell, Atlanta, Suwanee, Mableton and many parts of Georgia, give us a call or send us an e-mail.
Looking for a price? Get a no cost, no obligation free estimate.