About Bonner Built
Bonner Built is a family owned and operated business, providing Greater Marietta residents with quality home improvement since 1998. We understand the importance of honesty, integrity, and trust when it comes to roofing and other home exterior services.
The two owners of Bonner Built are builders, not just roofers, giving us a unique perspective on home improvement. When we're looking at a building, we have a wider perspective than other contractors can offer.
As a family owned and operated company, we love making connections between our family and yours. You'll typically get one-on-one attention from the owners - Jason or Josh will come sit with you on the job to make sure you're happy with the progress!
Countless homeowners have chosen us for their roof repair and painting needs, and we look forward to helping you!
About the Owners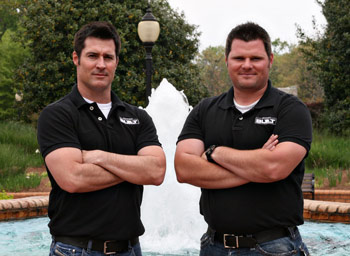 Jason and Josh Bonner run Bonner Built with a little help from the rest of the family!
Brothers Josh and Jason Bonner are the owners of Bonner Built. Both have extensive experience in the construction industry. Jason Bonner is a graduate of the University of West Georgia, where he earned his degree in Real Estate Administration. Since that time, Jason has accrued over 15 years of experience in the residential and commercial construction industry, and has worked in the greater Atlanta area his entire career.
Jason developed and built over 20 homes in Highland Village, a luxurious, eco-friendly neighborhood located west of Atlanta, along with his brother. Due to his attention to detail and consciousness of the environment, Jason was nominated as builder of the year by Earth Craft Homes. Jason is a licensed General Contractor in the State of Georgia and his expertise plays a big part in the success of Bonner Built Homes.
Josh Bonner received his Bachelor's Degree from the University of West Georgia in Marketing and Business Management. After graduating, he teamed up with his brother renovating and rehabilitating homes in the Atlanta area. Josh is a licensed independent adjuster who has an insurance claim approval rating of over 85%. Josh brings 7 years of construction experience to Bonner Built Homes. Together, the two brothers have developed a wealth of information that helps Bonner Built grow each and every day.
Recent Testimonials
"Your company did an amazing job. We cannot believe how quickly the job was completed."

Jeanne M. of Cumming, GA

"Thanks Ryan for stopping by, if he had not, I think we would have the same roof we had."

Homeowner of Cumming, GA
Customer Review
By Connor H.
Cumming, GA

"Top notch experience from start to finish"

By Ronald H.
Cumming, GA

"The sales rep (Greg) was the very best. He was honest, factual and very sincere and he knew the process and the product. He took..."
Community Involvement
Bonner Built has always belonged to the Atlanta area, and we believe in giving back to the community that has supported us for so many years. We participate in the local high school's fundraisers and sports events. We also donate to Toys for Tots, which provides Christmas gifts to economically disadvantaged children. Bonner Built is proud to do what we can for our friends and neighbors, and we look forward to future opportunities to get involved!
Environment Friendly
Providing green solutions for home improvement is one of our strengths here at Bonner Built. One of the ways we do this is by adhering to the Owens Corning Shingle Recycling Pledge. Taking this pledge means that the old shingles we remove from roofs will not end up in landfills. Instead, they are repurposed as pavement!
Looking for a price? Get a no cost, no obligation free estimate.